Traxxas Nitro Sport Special Edition
| | | |
| --- | --- | --- |
| | The Ready-To-Run Nitro Sport Special Edition is fully equipped with race-inspired features such as a T-6 aluminum and composite chassis, slipper clutch, independent suspension with tuneable oil-filled Ultra Shocks, ball bearing transmission, disc brake, and quick single-point steering. | |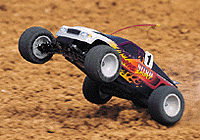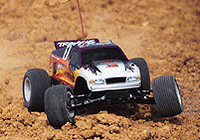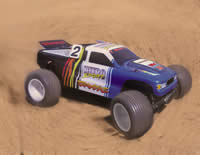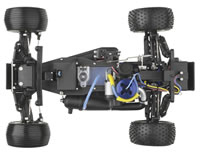 Nitro Sport's sophisticated chassis combines lightweight composite materials with the engine cooling properties of T-6 aluminum. The dual-plane layout is extra rigid for consistent, rugged performance.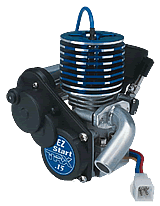 A performance tuned exhaust system is coupled to the powerful Pro .15 engine pushing top speeds past 38 MPH! The convenience of push-button engine starting with the exclusive EZ-Start system makes getting started in nitro easier than ever.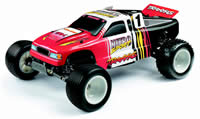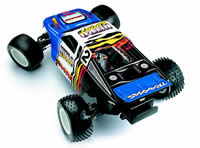 A sparkling 6-color ProGraphix painted body is included so all you need to do is take it out of the box, drive, and have fun!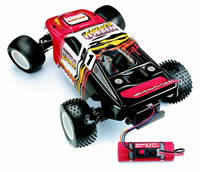 It's specially engineered for quick starts, smooth idle, and blazing acceleration! Nitro racing has never been easier! Nitro Sport is a serious driver's machine with long-travel, four-wheel independent suspension, and precision, oil-filled Ultra Shocks™.
General Features:

• Powerful, TRX Pro .15 engine
• Slipper Clutch
• EZ-Start electric starter
• Tuned pipe exhaust system
• Tough fiber-composite resin and T-6 aluminum construction
• Magnum 281™ transmission with ball bearings
• Adjustable, easy-to-change gear ratios
• X-tra long, fiber-composite, suspension arms
• Planetary differential with steel gears
• Powerful disc brake
• Telescoping, U-joint driveshafts
• X-tra long, high-volume, oil-filled Ultra Shocks™
General Specifications


Length :
17.75 " (450mm)
Front track :
12.5 " (318mm)
Rear track :
12.375" (314mm)
Weight :
62 oz (1.79kg)
Height (overall) :
6 " (152mm)
Wheelbase :
11.31" (287mm)
Front shock length :
Long
Rear shock length :
XXLong
Front tires :
Ribbed
Rear tires :
Pin-Spiked
Front wheels :
2.2" Dished
Rear wheels :
2.2" Dished
Gear ratio (final drive) :
2.81
Differential type :
Planetary
Gear Pitch :
32-pitch
Chassis type :
Plate
Chassis material :
Aluminium / Composite
Engine (Fuel-powered) :
TRX Pro 15 w/EZ-Start and slipper
Brake type :
Disc
Fuel-tank capacity :
75cc
Top speed :
38+ Mph

Price :

R Not Available

Available:
• Comes fully assembled, Ready-To-Run™, with TQ™ radio