Traxxas Nitro Rustler
| | | |
| --- | --- | --- |
| | The power of the new TRX 2.5 Racing Engine pushes the Nitro Rustler to insane top speeds of 47+ MPH, blowing away everything else in its class. A simple clutch bell change pushes it past 50 MPH! | |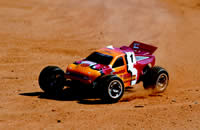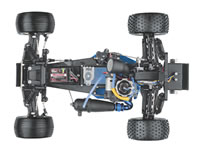 Nitro Rustler comes fully-loaded with a brilliant blue-anodized T-6 aluminum chassis, ball bearing transmission, disc brake, adjustable slipper clutch, bellcrank steering system with a high-torque steering servo, oil-filled Ultra Shocks, and a performance-tuned exhaust system.
Excellent weight distribution and precisely engineered suspension geometry give the Nitro Rustler the handling prowess you need to take control on the track.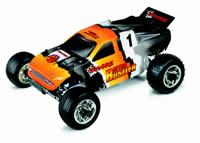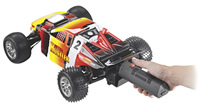 The wild graphics on the included ProGraphix painted body and the sparkling TRX Pro-Star™ chrome wheels show off with style. Starting the TRX 2.5 Racing Engine is a snap with Traxxas' exclusive EZ-Start 2™ push-button starter.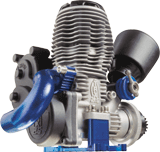 The new TRX 2.5 Racing Engine
| | | | |
| --- | --- | --- | --- |
| | | | |
| The Traxxas Nitro planetary differential | The Rustler's gearbox with a final drive of 2.81 | The Nitro Rustler comes with High-volume, oil-filled Ultra Shocks™ | The fully assembled Nitro Rustler is truly Ready-To-RaceŽ with the installed TQ radio system. |
General Features:
• TRX 2.5 Racing Engine
• Ball Bearings
• EZ-Start 2™ electric starter
• Tuned pipe exhaust system
• Double deck T-6 aluminum and composite chassis
• Magnum 281™ transmission with ball bearings
• Adjustable, easy-to-change gear ratios
• X-tra long, fiber-composite, suspension arms
• Planetary differential with steel gears
• Powerful disc brake
• Telescoping, U-joint driveshafts
• X-tra long, high-volume, oil-filled Ultra Shocks™
General Specifications


Length :
17.5 " (445mm)
Front track :
12.5 " (318mm)
Rear track :
12.375" (248mm)
Weight :
60 oz (1.7kg)
Height (overall) :
6 " (152mm)
Wheelbase :
11.313" (287mm)
Front shock length :
Long
Rear shock length :
XXLong
Front tires :
Ribbed
Rear tires :
Mini Pin
Front wheels :
2.2" Dished
Rear wheels :
2.2" Dished
Gear ratio (final drive) :
2.81
Differential type :
Planetary
Gear Pitch :
48-pitch
Chassis type :
Double decked
Chassis material :
Aluminium composite
Engine :
TRX 2.5 with EZ-Start
Brake Type :
Disc
Fuel tank capacity :
75cc
Top speed :
47+Mph (75+ km/h)

Price :

R Not Available

Available:
• Fully assembled, Ready-To-Run™, with TQ™ radio and TRX 2.5 Racing Engine