Traxxas Monster Buggy
1/6 scale, gasoline-powered, off-road buggy

You'll understand why bigger is better, after driving the Traxxas 1/6-scale Monster Buggy. It's unlike anything you have ever experienced. Monster Buggy weighs in at 22 pounds, and is over 2 feet long. When this beast hits the track, everything else runs for cover.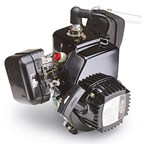 The heart of the Monster Buggy is its 23cc, 2-cycle, 2-horsepower, Zenoah racing engine. This proven-reliable, high-revving, easy-starting engine is the top performer in the industry. It's equipped with many convenience features, such as a recoil pull starter and magneto ignition.The Monster Buggy will run approximately 45 minutes on a tank of fuel and can reach speeds up tp 40MPH.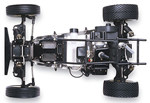 Monster Buggy's chassis is formed from thick, aircraft grade T-6 aluminum. The disc brake and adjustable slipper clutch are protected from dirt inside the gearbox. Ball bearings are used throughout. It comes fully assembled as shown without the radio system. Traxxas recommends using a "PCM" failsafe type of two-channel radio system. Two heavy duty large servos are needed for the bellcrank steering.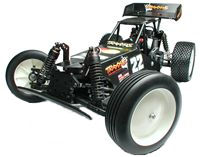 Just because it's big, doesn't mean it's clumsy. Monster Buggy has all the pro-level sophistication and features you would expect. The four-wheel independent suspension has extra-long travel for superior handling and jumping. Gigantic, aluminum, oil-filled shocks can be precisely tuned for maximum performance. Bellcrank steering, with dual-servo capability, delivers lightning-fast response. For all-out performance, the durable transmission has variable gear ratios, an adjustable slipper clutch, and an oversized disk brake. Of course, it's all Traxxas Tough, with a heavy-duty aluminum chassis, full ball bearings, and fiber- composite parts.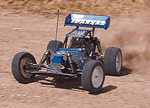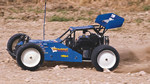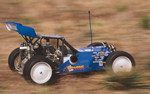 The Traxxas Monster Buggy comes completely assembled with the Zenoah 23cc engine. Just install your two-channel radio system, pour in your fuel, and you're ready for earth- shaking excitement.
General Specifications


Length :
26 " (660mm)
Front track :
17.75 " (451mm)
Rear track :
17.625" (448mm)
Weight :
305 oz (8.65kg)
Height (overall) :
12.5 " (318mm)
Wheelbase :
18.625" (473mm)
Front shock length :
XXLong
Rear shock length :
XXLong
Front tires :
Ribbed
Rear tires :
Ribbed
Front wheels :
4.4" Flat
Rear wheels :
4.4" Flat
Gear ratio (final drive) :
2.71
Differential type :
Planetary
Gear Pitch :
16-pitch
Chassis type :
Plate
Chassis material :
T-6 Aluminium
Engine (fuel-powered) :
Zenoah 23cc
Brake type :
Disc
Fuel tank capacity :
33.8oz (1 litre)

Price :

R Not Available

Available Fully assembled with the Zenoah engine. The two-channel radio system is not included