Traxxas T-Maxx
| | | |
| --- | --- | --- |
| | Over two and a half years ago the T-Maxx exploded onto the RC scene and took over the monster truck world with complete dominance. | |
| | | |
60% More Power!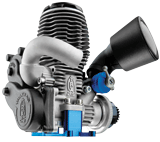 The new T-Maxx is Ready-To-Race with 60% more horsepower from the all-new TRX 2.5 Racing Engine! In the real world of high-performance racing, the power-to-weight ratio is everything. More power and less weight equal greater speed and acceleration! Bigger engines in bigger trucks give the illusion of being more powerful, but all that jumbo sizing adds bulk and weight that just slows you down. The performance-minded driver knows that using technology and innovation to increase horsepower, without increasing the size and weight of the vehicle is the key to going fast. The T-Maxx follows the formula precisely and the results are wheelies on demand and top speeds in excess of 40 MPH!

People will see it run and ask, "Did you convert that T-Maxx to a .21?" You'll just smile and say "Nope. Didn't have to spend that much cash or work that hard. It's the Traxxas TRX 2.5 Racing Engine."
WideMaxx™ Suspension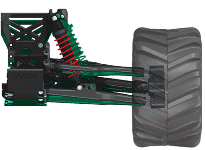 The New T-Maxx is much faster and more powerful so we gave it a new WideMaxx suspension system for superior stability. The track width is over an inch wider than the original Maxx! Going racing? You'll be pleased to see an all-new selection of shock mounting positions on the suspension arms and the shock towers. Out of the box, the suspension is set up for that famous ultra-plush, bottomless 'Maxx suspension feel. When you head for the track, change the angle of the shocks to slam the T-Maxx low and firm for excellent jumping and cornering that can even keep pace with traditional race trucks. Even the front caster is easily adjusted in seconds to precisely tune the handling characteristics. The superior pivot ball suspension design is retained for unmatched durability and ease of adjustment.
A Beefier Maxx!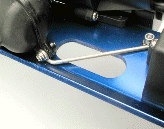 Traxxas has a reputation for building products that hold up under punishing use and the tradition continues with the new T-Maxx. We beefed up the thickness of the blue-anodized T-6 aluminum chassis to 3.0mm making it 50% more rigid. A more rigid chassis allows the suspension to perform more accurately and reduces wear and tear on other components.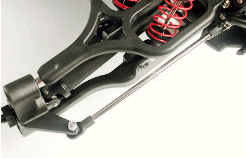 The new suspension turnbuckles are 3.5mm diameter for increased strength. The turnbuckles are designed with stops so you get perfect alignment settings everytime.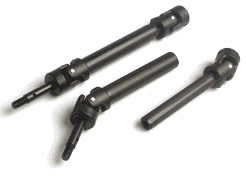 With 60% more power on tap, stronger driveshafts are a must. To take the abuse, the T-Maxx is equipped with all-new, larger diameter, heavy-duty driveshafts. The yokes and the U-joint balls are also larger. The half-shafts are keyed to go together only one way so you'll never have wobbly, out-of-phase drive shafts. The T-Maxx's U-Joint drive shafts are superior to metal cup and ball shafts because they can allow greater suspension travel, less wear, and no metal-to-metal friction.

New Graphics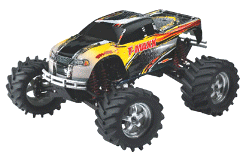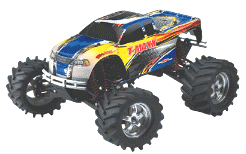 There's no equal to the graphics on a Traxxas painted body. The new
T-Maxx sports a blazing 6-color design that's available in 4 different color schemes.

There's no painting or trimming required! Even the decals are already die cut for easy application.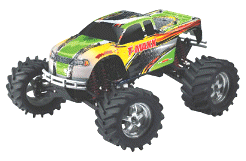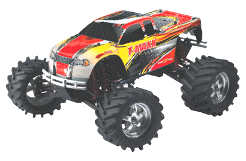 New Owner's Manual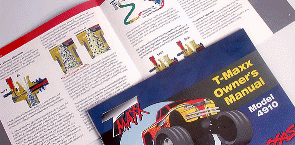 The T-Maxx now includes a 48-page full color Owner's Manual that takes you through each step of the set up, break-in, and tuning procedures. If you're just getting started with nitro R/C, you can dive in with both feet and drive a T-Maxx. The manual was written by experts and engineers with years of experience, and is loaded with step-by-step information, explanations of engine terms and theory, and tips for getting the best performance. Even the novice will be able to break their engine in and tune like a pro.


Compatibility


It's no accident that the new T-Maxx remains compatible with the huge number of accessories that are available for it. No other truck has the same level of aftermarket support than a T-Maxx. From mild to wild, the possibilities are endless. With Traxxas' full line of accessories, you can customize your T-Maxx for show or go!
Overview of features:
The new WideMaxx™ suspension system is fully adjustable for either maximum off-road travel or low and firm for high-speed racing.

Fully assembled and ready-to-run with the 3channel TQ-3 pistol grip radio system installed and adjusted. Includes a high-torque steering servo.

EZ-Start push-button New TRX 2.5 rear-exhaust racing engine with slide carburetor, electric starting, and tuned exhaust system.

New second generation EZ-Start system monitors critical starting functions with diagnostic indicator lights.

The T-Maxx uses proven 4-wheel drive system with hardened steel ring and pinions; planetary gear differentials; slipper clutch; and new, larger, heavy-duty driveshafts.

New wider suspension features multiple shock mounting positions, adjustable caster, 8 adjustable oil-filled shocks, and over 3 1/2 inches of suspension travel.

Precision ball bearings (28 total) are used everywhere

Beautiful 6-color painted and trimmed body included

New 3mm heavy duty chassis is 50% more rigid

New heavy-duty 3.5 mm turnbuckles are installed

| | |
| --- | --- |
| Price | Not Available |