JR J-Line Quattro Lite Radio System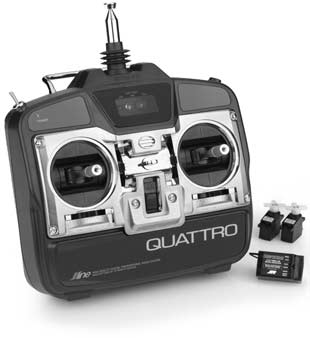 The virtual explosion of park flyers and slow flyers onto the flying scene has increased the need for micro flight pack equipped R/C systems. The new J-Line Quattro Lite System combines the solid reliability of the inexpensive J-Line Quattro with a state-of-the-art JRŽ micro flight pack to offer park flyers and slow flyers exactly that.

Featherweight flightpack
At the heart of the J-Line Quattro Lite Radio System is an ultra-light flight pack made up of two JR S241 micro servos and JR's sophisticated R610M FM micro receiver. The entire flightpack weighs less than 1 ounce! It's small enough for the snug confines of a park flyer fuselage and light enough to be mounted on the sparse frame of even the lightest indoor slow flyers.

Superior flexibility
Another one of the attractive aspects of the new system is its flexibility. With the Quattro transmitter's 4th channel and the 6 available channels of the R610M receiver, moving up to a slow flyer with ailerons is as simple as adding another servo.

The wallet-friendly pricing and unmatched flexibility of J-Line's new Quattro Lite are sure to impress many slow and park flyer fans. If you're in the market for a light flight system, you owe it to yourself to head on down to your local hobby shop and give the J-Line Quattro Lite Radio System a look.

| | |
| --- | --- |
| Radio Type | 4 channel computer |
| Batteries | Fully rechargeable nicads |
| Servos | 2 x JR S241 micro servos |
| Receiver | R610M FM 6-channel Micro Receiver |
| Other Components | n/a |
| | |
| Price | R Not Available |